El Distrito Digital de la Comunidad Valenciana colabora con Everis y Torre Juana OST en la organización del NASA Space Apps Challenge 2019, el hackathon más grande del mundo, una competición global en la que miles de equipos compuestos por programadores y techies intentarán resolver los retos propuestos por los ingenieros de la NASA.
Space Apps Challenge 2019 se desarrollará del Alicante el 19 y 20 de octubre en EVERIS Alicante y Torre Juana OST, únicos Hubs del evento en la provincia.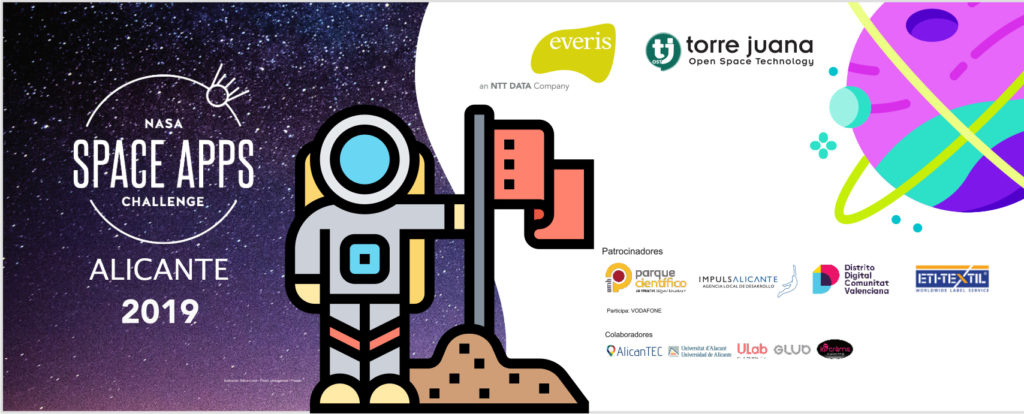 Durante dos días los equipos trabajarán en sus proyectos para dar solución a los desafíos a los que nos enfrentamos actualmente, y ayudar a mejorar la vida en el planeta Tierra y contribuir a misiones de exploración en el espacio. Las categorías propuestas este año en el desafío están centradas sobre las siguientes temáticas: Earth's Oceans, Our Moon, Planets Near And Far, To The Stars, Living In Our World. Las soluciones a los problemas pueden tener en múltiples formatos y no necesariamente tienen que ser apps; los participantes pueden dar rienda suelta a su imaginación y escoger el formato que mejor represente su propuesta siempre que se ajuste a los requisitos del reto.
El evento en Alicante reunirá a más de 70 techies, estudiantes, comunidades tecnológicas y profesionales de la provincia, independientemente de su formación o nivel de habilidades.
Dentro del reto existen dos niveles: el desafío por ciudades y el internacional. En el primero, los equipos presentarán sus proyectos y serán valorados por un jurado local compuesto por:
·         Pedro Pernías, director general de Tecnologías de la Información y las Comunicaciones·
·         Raúl Juanes, director de la unidad de Sector Público de Everis en Comunidad Valenciana y Murcia.
·         Andrés Pedreño Muñoz, presidente de AlicanTEC e impulsor del proyecto Torre Juana.
·         Tonia Salinas, directora del Parque Científico de la Universidad Miguel Hernández de Elche.
·         Aurelia Bustos, investigadora oncológica e ingeniera informática. Recibió la Orden al Mérito Civil de manos del rey Felipe VI por sus investigaciones acerca de la aplicación de los métodos de inteligencia artificial en la lucha contra el cáncer.
Este jurado elegirá a dos equipos ganadores locales que pasarán a la fase final para presentar la idea al jurado de la NASA. ¿El premio mundial? La oportunidad de asistir a un lanzamiento de la NASA.
Toda la información del evento está disponible en la Web de Space Apps Challenge