Comunitat Valenciana Digital District and the installed company GGTech Entertainmentt will boost a gaming and eSports hub. This ecosystem will help unleash the potential of both the activity and the professionals in the gaming-eSports sector. The initiative has been announced at a GGTech meeting with the media, in which the new projects that will be launched during the next year, as well as the growth planned for 2020 by the company have been also analysed.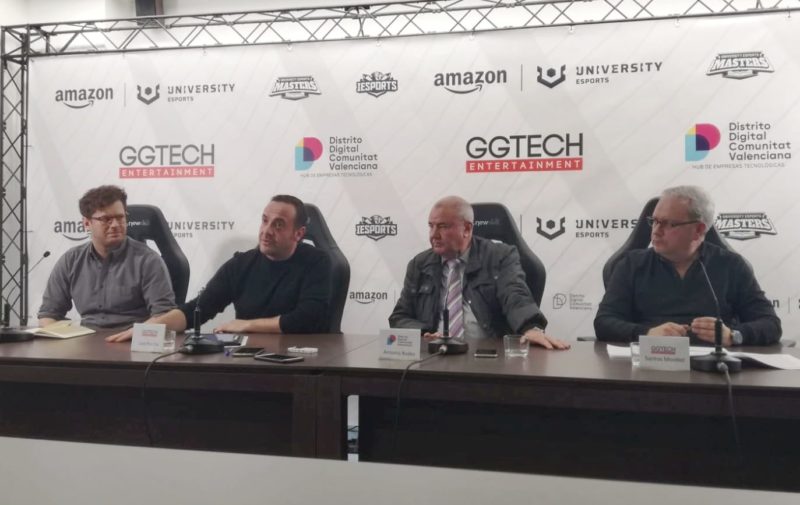 This gaming – eSports hub will serve to give support to all those initiatives from independent professionals and small companies that have innovative project but also a lack of specific resources to turn them into reality.
This meeting with the media has been attended by Sociedad proyectos Temáticos de la Comunidad Valenciana's General Director Antonio Rodes, GGTech's CEO José Parrilla and GGTech's General Director Santos Montiel. Antonio Rodes pointed out that "the gaming and eSports sector has now become a unifying factor that will help to produce a digital ecosystem in the Valencian Region". During his speech, he also explained that "the success case that for Distrito Digital has meant the activity and expansion of GGTech, from an initial embryonic initiative, has become a project that has already transcended national borders".
Amazon University Esports
GGTech has taken a very important step in the expansion of its Amazon University Esports project, the eSports interuniversity league, which has expanded its presence outside spanish borders, specifically to Italy and the United Kingdom. This will involve the participation of more than 300 universities across Europe at the end of the year 2020. The company also manages the IESports league, which in this edition will have the participation from more than 500 educational centers throughout Spain. These two competitions have more than 2,000 teams in Spain.
Amazon University Esports is the National Videogames Competition between university teams in which the best players from each center compete for the National title in different countries. This competition was created in mid-2015 with the aim of combining esports and coexistence among university students, encouraging the generation of a university community that strengthens the values ​​of the competition, with the passion for esports, in addition to promoting and transmitting values such as responsibility, social integration, companionship, teamwork or the search for new challenges, in an environment of fun and learning.