Madrid, March 2, 2020.-The general director of the Sociedad Proyectos Temáticos de la Comunidad Valenciana (SPTCV), Antonio Rodes, has visited this Monday the Embassy of Finland in Spain, based in Madrid, to meet with its head, the Finnish ambassador Tiina Jortikka-Laitinen. During the meeting, Antonio Rodes presented the details of the Comunidad Valenciana Digital District project, and highlighted the notable presence and installation of Finnish companies in this digital ecosystem, and the agreements that are being reached with Finnish entities and companies, – among them the agreement reached with the European Space Agency (ESA) -.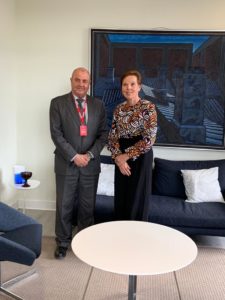 The ambassador, for her part, has shown her interest in the development of the technological hub and has expressed her willingness to visit the Digital District shortly.
During the meeting, Rodes also highlighted the close relationship with the Finnish innovative ecosystem. All the parties have agreed in expressing their desire to continue collaborating and strengthening ties, especially in terms of business relationships between Finnish and Spanish technology companies, from the perspective that the Comunidad Valenciana Digital District is the ideal place for companies technological establish their branches and can open to the Spanish market and even to the Latin American.Europea (ESA)–.