The companies and startups linked to the ecosystem of Comunitat Valenciana Digital District are an active source of qualified job creation in the technological sectors and subsectors, linked to innovation and the new economy. In the last year, our companies have published job offers to fill up to a hundred jobs. The most in-demand tech professionals by the #EmpresasDDCV are very varied and cover wide fields of technological development, but those related to the development of mobile platform modules, as well as the transformation of different products towards Artificial Intelligence and Big Data stand out in this Covid-19 scenario.
At a general level, the most wanted professionals are developers from both the Software and Web fields, Telecommunications and IT engineers, and Software and Web programmers. Our startups and tech companies are also looking for professionals in the field of sales and customer service, consultants and specialists in Digital Marketing, as well as analysts and experts in security systems. All the job offers can be consulted in the Employment section of our website: https://distritodigitalcv.com/employment/
The job positions published by the companies of Digital District range from help desk, Prestashop module developers, mobile app developers, community managers, Big Data developers, to Junior QA programmers, Junior Big Data and Server Monitoring, JAVA programmers, Back-end Programmers Analysts, Media Systems Architects, PHP Programmers and Technical Support Engineers (TSE), among other specialties.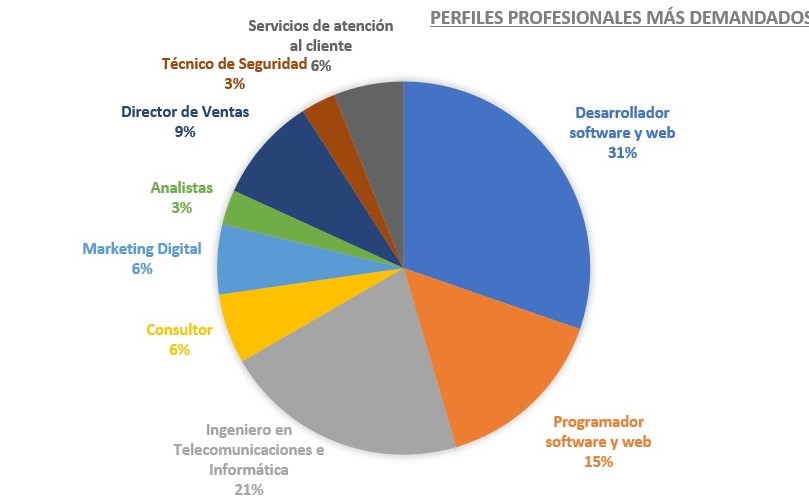 Digital District hosts 700 professionals
The innovation ecosystem of Digital District is home to – as of September 2020-, more than 200 companies, of which 80 are technology companies installed in their own headquarters, more than a hundred adhered as partners, -from their headquarters in different parts of the Region of Valencia-, and another 65 are collaborating companies and entities.
The hub facilities already host 700 professionals who work for the 80 companies installed, a large part of whom have been able to access the new jobs created by startups and technology firms to expand their work teams in the Digital District.
54% of the companies that are part of Digital District belong to the software and multiplatforms sector, as well as Big Data, Smart Data or Business Intelligence and the technology industry applied to finance, the real estate market, education and tourism . Up to 10.7% are companies dedicated to infrastructures related to connectivity and another 10% are specialized in digital marketing. Online commerce, Artificial Intelligence, smart cities or gaming and eSports, are other business profiles that are part of the hub and that, in addition, have experienced the greatest growth since the beginning of the pandemic.